LTSAAS Regeneration Plan
Since mandated by the Government in 2005, Malaysia Airport has undertaken the development of LTSAAS as an International Aerospace Centre and general aviation airport .
Today LTSAAS is the second most preferred hub in Asia and fourth globally for Business Aviation MRO. It is also the first aerospace and business aviation ecosystem in Malaysia, and has grown exponentially in the past 10 years, attracting a host of foreign and local aerospace anchors.
A key part of the global supply chain, the aerospace ecosystem is recognised for its expertise in component manufacturing, aircraft assembly, maintenance and overhaul of aircraft and helicopters, and increasingly, a hub for business aviation operators.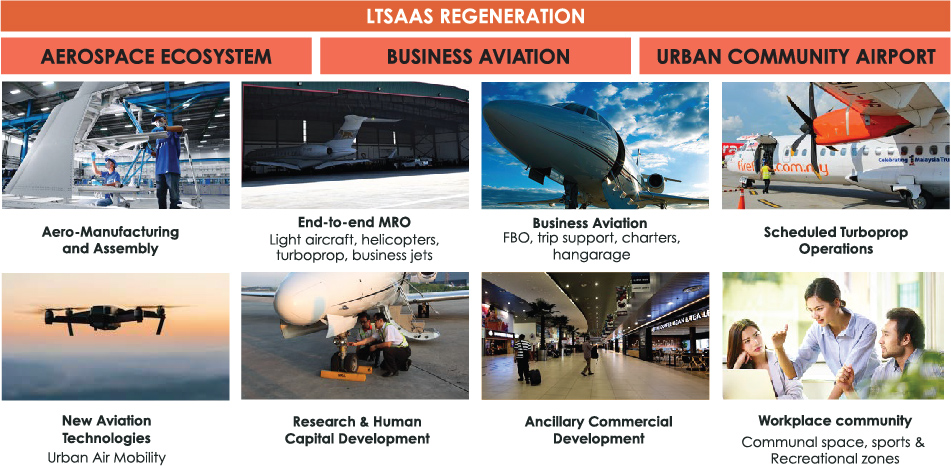 The LTSAAS Regeneration plan provides optimal planning with clear spatial and operational demarcation of business aviation, aerospace and urban community airport components.
The plan will leapfrog LTSAAS to a best-in-class global hub by increasing capacity for all aviation segments, by up to 3 times in its current footprint. The master plan prioritises airside development to cater for the growth in aerospace and business aviation MRO for airplanes and helicopters segments. Whilst ours is a specialised industrial development focus, we have nevertheless provided for a balanced commercial development offering which plays an ancillary role, catering to the workforce and local community needs.
KEY FEATURES

+3.3 million sqft airside real estate
with dedicated apron

+1.6 million sqft of landside real estate
for aero-manufacturing, component MRO and supporting facilities

New community activation centres
in the form of multistorey carparks with amenities including convenience and mini cafés/ grab-and-go offerings, and community space.

Additional taxiways, taxilanes, aircraft parking bays and engine ground run bay

Flexible business model via integrated real estate solution
including build-to-suit solutions for customised, high grade industrial facilities and ready built facilities for aerospace and high-tech industry.
Stay tuned for more exciting updates coming soon!